CFBF.com: California Country Magazine: Basquing in tradition
European immigrants find purpose and pleasure in California's countryside
By Jim Morris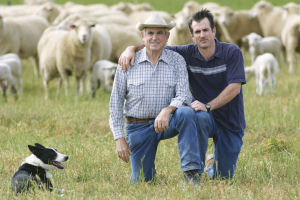 They came seeking a better life for their families and with visions of mines overflowing with gold. Basques who emigrated from Europe found their treasure, not in prospecting for gold, but in raising sheep and lambs in the verdant fields of California.
Sebastien Minaberri had much more trepidation when he headed to America in 1952. A carpenter by trade, the 19-year-old stated "sheepherder" as his profession because he knew it was the only way to get a visa out of his homeland. After years of long, lonely, laborious days, he mastered his trade, met and married his wife, and established firm footing in the San Joaquin Valley.
"I don't think anyone in the world is happier than I am," Minaberri said. "I'm doing what I like to do and I'm free. This is a dream come true."
His dream is shared by generations of Basques, who came from a region straddling the Pyrenees mountains that border France and Spain. Many Basque immigrants originally tried to stake their claim into a seemingly more lucrative profession when they first headed west. Basques were in the American West with early Spanish explorers, but the quest for gold that gripped California was what brought them out en masse. Like countless other fortune seekers, many Basques soon found out they weren't suited for a life of digging for gold.
This setback proved only temporary for these hard-working people.
On any given day, from dawn to dusk, if you're traveling I-5 along the vast openness of Kern County, you may see Minaberri and his son, Dominique, tending to their 6,000 sheep and lambs.
The younger man is so proud of his heritage that he had his last name formally changed to Minaberri Garai, adding back the full family name that was lost during his father's assimilation into America.
Minaberri Garai was born into the farm lifestyle, but went to college and received a law degree. He practiced for two years before his gut told him that he belonged in the fields.
"I didn't realize how much wearing a suit and tie and sitting in front of a computer all day would bug me," he said. "Raising sheep is a tradition deep rooted in our culture. I just wanted to be outdoors and to enjoy the fresh air. Having grown up in this community, you can never get away from it. It's part of you, and I think many people who go away realize that it's a real part of self to come back here and continue both the tradition as well as the sheep industry."
His father couldn't have been happier with his son's return. He even postponed retirement plans for the reunion.
"When Dominique came back to the ranch, he charged my batteries again," the elder Minaberri said. "I was figuring on retiring in a couple of years and selling most of the sheep. When he said he wanted to work with me, I got a few years younger and was willing to work again."
Hard work is nothing new to Minaberri, who arrived in California with his future very much an open slate.
Minaberri remembers long days working alone in the countryside, though his life drastically changed nine years after coming to America. A trip to Wool Growers Restaurant in Bakersfield brought him more than a hearty meal. There, he met an alluring young waitress, just over from the home country, with a smile as big as he'd ever seen and a voice like a songbird.
Sebastien and Anne Marie Minaberri were married at Wool Growers, and like many thousands who have gone to the restaurant since, have made it a part of their lives.
"I just knew those two were for each other. Right away, you could tell," said Mayie Maitia, who with her husband opened the restaurant 51 years ago.
Maitia is a study of contentment and commitment to her people. The 76-year-old works six days a week and always has a moment to help someone in need. She came to America as a teenager and has spent a lot of time as a sort of Mother Teresa, helping new arrivals from the Basque country with paperwork, providing them flavorful, authentic meals and even playing matchmaker on occasion.
Like other immigrants, Maitia knows what it means to start with nothing and build something. While she earned $31 a week and her husband not much more than that, they borrowed $10,000 from her brother-in-law to start the restaurant, and built it up through 16-hour workdays and a commitment to providing good food and lots of it.
Dine at Wool Growers and you should expect a feast like no other. Dinners range from $11 to $21 per person, depending on the entrée, and include bread and butter, soup, hot sauce and beans, pickled beef tongue, marinated tomatoes, green salad, pasta, french fries, vegetables, a meat entrée, ice cream or sherbet and coffee.
Every day is busy at this institution, as old friends gather for a drink or two and travelers make a brief immersion into a fascinating culture. The restaurant has a photo gallery honoring Basque people who found happiness and success in the Golden State.
Saturdays are the busiest days of the week, with about 860 partaking in lunch or dinner. Visitors come from all over the globe, including Germany, Australia, New Zealand, Japan and China.
"Our food is very much the old family recipes that my mom brought back from the old country," said Maitia's daughter, Jenny, who has worked with her mother at Wool Growers since 1971. "We are proud to say that we have two and three generations of families that always come to the restaurant. Our workers also feel like we're a family here, and they feel like my mom is their mom. I don't mind sharing her with all of my employees. This is a very enjoyable place to be. I wouldn't want to be anywhere else but here."
Besides eating at Wool Growers, many Basque immigrants subscribe to the theory of working hard but enjoying their free time with gusto. Recreational activities include singing, dancing, pelota (a Basque version of racquetball) and talking in their native language, Euskara, which is so ancient it has no known derivative.
Feelings that Califor-nia has provided riches beyond compare are echoed throughout the Basque community. As sheepherders following World War II, they were instrumental in increasing the sheep population in the West by more than 500 percent during a 20-year period to more than 3 million.
Sheep herds and shepherds are much fewer in number, but the passion and proud heritage of those in the fields have not diminished.
"California is the best place on earth," Minaberri Garai said. "That's something that's been instilled in me by my parents. My parents have always taught me that we came from France, but America, in particular California, is where we made a living."
Jim Morris is a reporter for the California Farm Bureau Federation and host of the popular weekly television program "California Country." He can be reached at 800-698-FARM or jmorris@cfbf.com.